Reading time: 4 minute(s)
September 20, 2022
Seamless data collection and exchange in GeoPackage format
Reading time: 4 minute(s)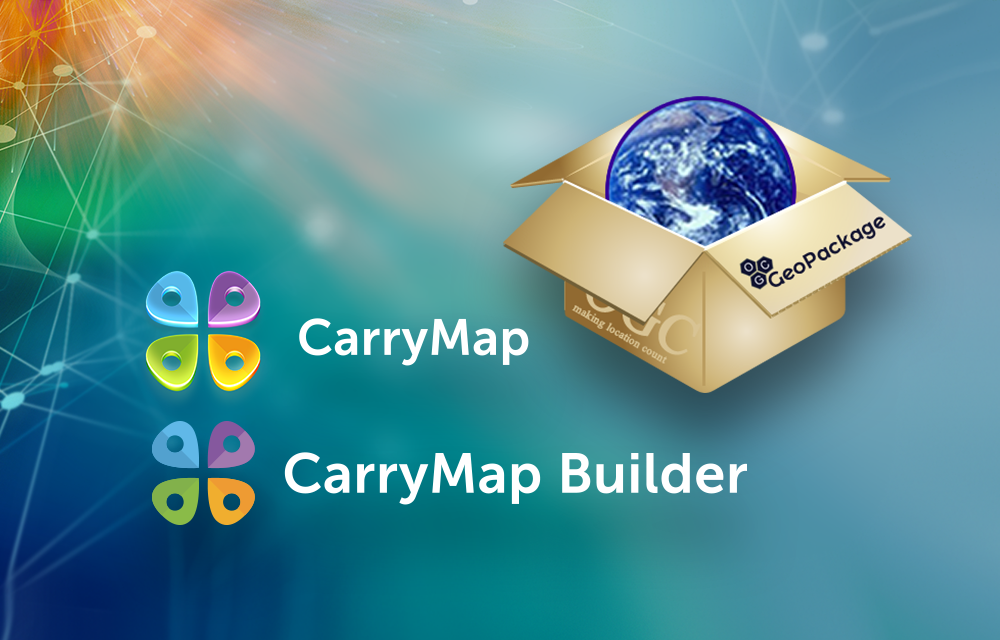 Collect field data and exchange it in GeoPackage format using CarryMap technology
GeoPackage, defined by Open Geospatial Consortium, is the open, non-proprietary, standards-based data format for geographic information system implemented as SQLite database container. CarryMap technology combines CarryMap Builder extension to export your ArcGIS maps to compact interactive mobile maps and free CarryMap application for work with these mobile maps on the Android, iOS and Windows devices not limited by Internet connection.
Take advantage of GeoPackage format while using CarryMap technology
With desktop extension CarryMap Builder you can export ArcGIS layers to platform independent GeoPackage format for spatial data exchange with users inside and outside your company. Besides, GeoPackage files can be used in CarryMap mobile application as data collection templates. The GeoPackage format supports media attachments of features, thereby ensuring the reliability and accuracy of data transfer. Using CarryMap Builder you can import data collected with CarryMap back to ArcGIS project for storage and further work with it. Now more about each advantage.
Export ArcGIS data as GeoPackage files from CarryMap Builder
You can export ArcGIS layers from CarryMap Builder to GeoPackage format to share created data with your peers. To start export to GeoPackage process, press 'Export to GeoPackage' on CarryMap Builder toolbar. Note that you can apply both export options at a time, i.e. export from current ArcGIS project and from catalog. Also, you can specify the following options if needed: exporting schema only (attribute table) without features' geometry, exporting selected features from current map extent only or exporting only features selected on map using 'Select' tool. Upon the process completion you can share the GeoPackage file and then open data in the CarryMap app.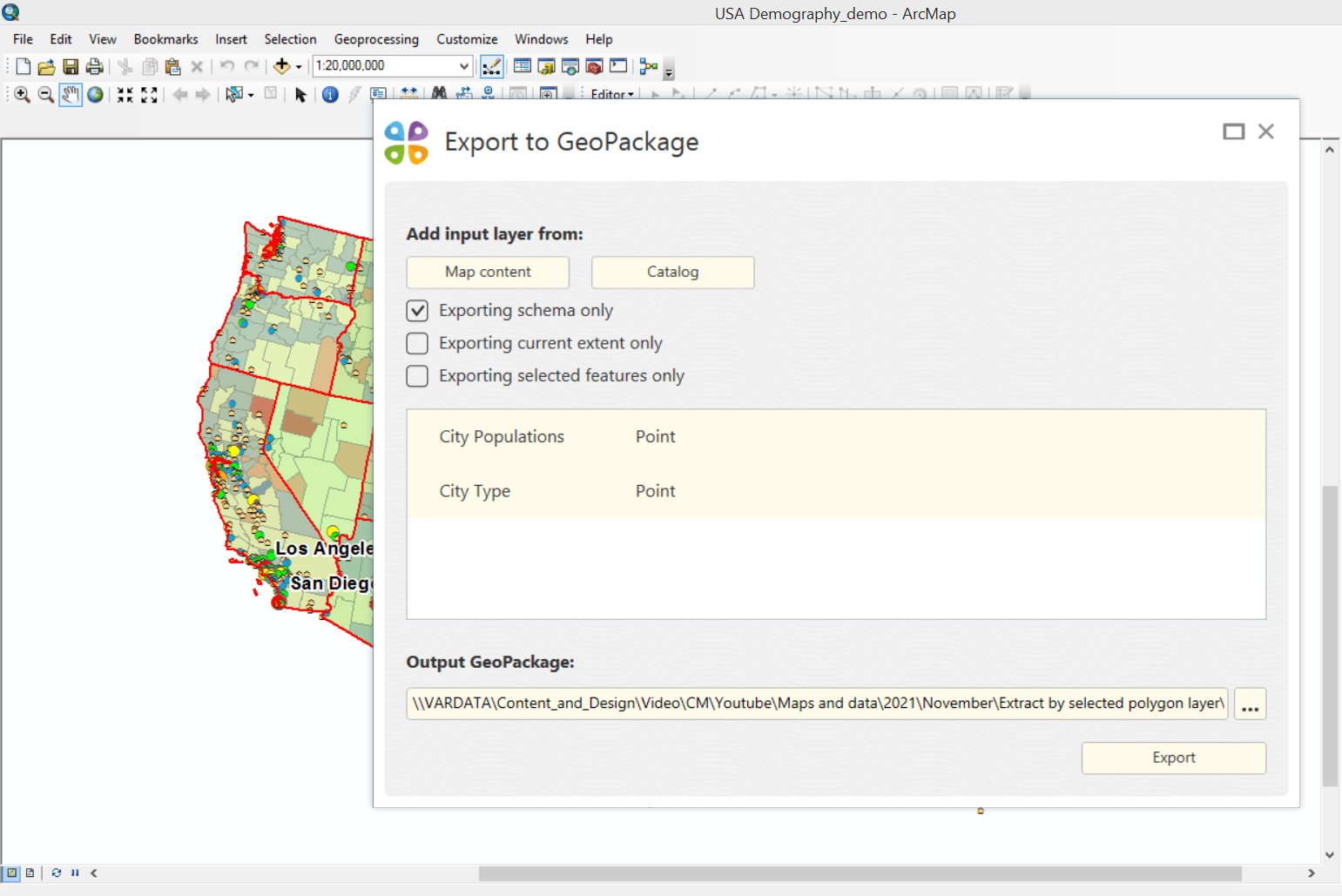 Collect data in GeoPackage format while using CarryMap app
You can use exported GeoPackage layers in the CarryMap app as data collection templates for data collection with predefined attribute because the tables structure (set of fields) as well as the attribute data are saved. After all, while performing inspection in the field it is more convenient and faster to just fill in the missing parameters rather than to create blank new layers. Besides, with this option you can create templates to be later used by your field workers to collect data organized in the way applicable in your company.
To collect field data in GeoPackage format in the CarryMap app you need to download exported GPKG file to mobile device. There are a few options for downloading file to smartphone or tablet. Being online you can download the file from the file hosting or email. If no Internet is available, connect your Android/Windows device to your computer via USB cable and download the GPKG file from computer to smartphone or tablet. To download the file to iOS device, use iTunes. As soon as the GPKG file is on your mobile deice, you can start the data collection process.
While collecting data using CarryMap app, you can create, edit features' geometry and attributes of the GeoPackage file and add photo, video and documents attachments to them.
Import GeoPackage files from CarryMap app to CarryMap Builder
Upon the data collection completion and when all features have been added to the map, you need to import data back to CarryMap Builder as GeoPackage files for further work with them in the office. To export collected data, press 'Share' button opposite the layer with data in the CarryMap app. Select GeoPackage data format and send received file using any convenient method. After downloading GPKG file to your computer, run 'Import from GeoPackage' tool on CarryMap Builder toolbar. This tool is required to import your collected data both to existent geodatabase with set of feature classes, and to the newly created geodatabase.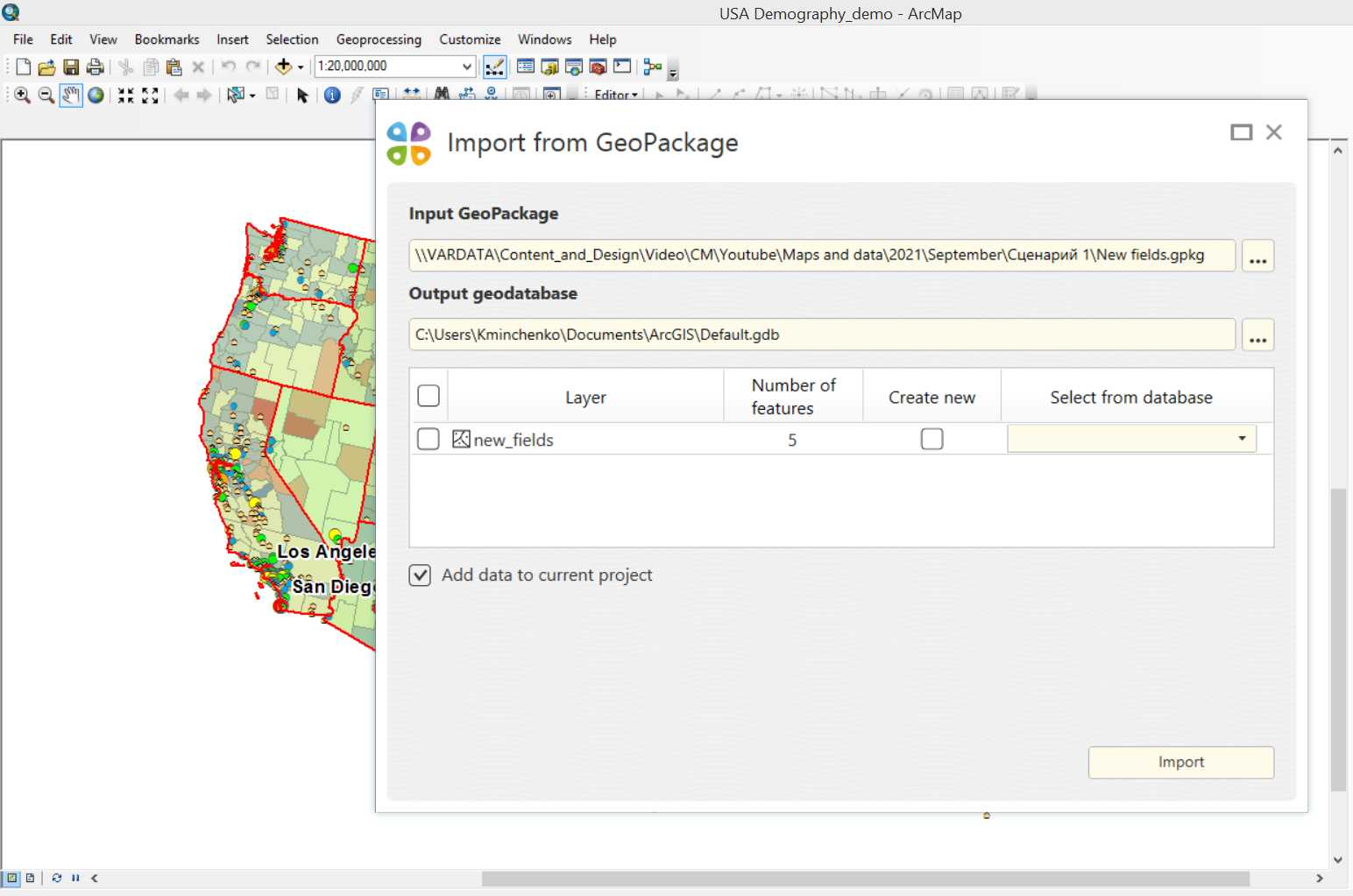 By importing to the existent feature class, one of the following importing methods can be used:
update – only changed features are imported. By using this method, the imported GeoPackage data must have the completed Global ID field and the enabled Editor Tracking mode for the 'Modification date' field.
save – all features are imported and source features in the output GeoPackage file are deleted.
merge – all features are imported and source features in the output GeoPackage file are saved.
Note that attribute table of the output feature classes where to import will be done, will be changed according to the attribute table of the imported GeoPackage files.
So, you exported data to GeoPackage format using CarryMap Builder, transferred it to mobile device with installed CarryMap app, collected data using GeoPackage as data collection templates in the CarryMap app and imported collected data using CarryMap Builder for further work with it.
Try CarryMap Builder and create your own maps for free for 14 days!
Take advantage of free CarryMap app to view and work with created maps on Android and iOS smartphones and tablets, and Windows Desktop devices.