Reading time: 2 minute(s)
September 26, 2016
FAQ about new CarryMap Builder release
Reading time: 2 minute(s)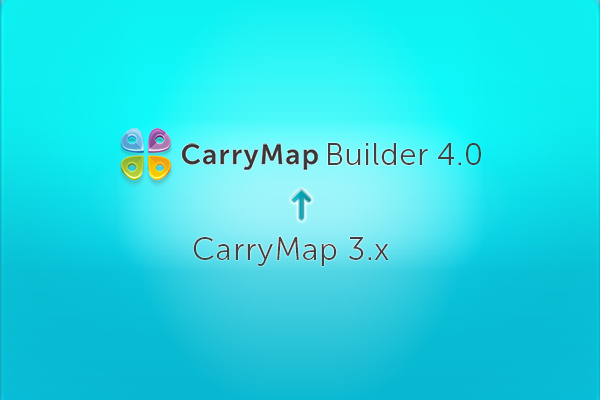 The most frequently asked questions about status of previous CarryMap 3.x licenses, what has changed after new CarryMap Builder release and what are migration options
Recently we have released CarryMap Builder - an ArcGIS for Desktop extension, which is a brand new product for creating mobile maps from ArcGIS maps. We are getting a lot of questions and comments related with this new release and would like to share with you the most frequently asked ones below.

Q: I have already got CarryMap 3.x license. Can I purchase CarryMap Builder license with a discount?
A: Yes, we do provide our customers with opportunity to buy upgrade from CarryMap 3.x to CarryMap Builder for the discounted price of $150 (instead of $500 for new CarryMap Builder license).

Q: Can I continue using my CarryMap 3.x or do I have to buy CarryMap Builder now?
A: No, you are not being forced to buy anything! The users who have already purchased CarryMap 3.x license can use it as long as they need. But please note, that starting from June 21, 2016 we do not sell CarryMap 3.x anymore, at that our existing users are welcome to use their CarryMap 3.x licenses without any time limits.

Q: If I upgrade my license to CarryMap Builder, will I still be able to use my CarryMap 3.x?
A: Yes, CarryMap Builder license allows you to use both CarryMap Builder and CarryMap 3.x for unlimited period of time.

Q: Should I use old CarryMap Observer mobile apps to view mobile maps created with new CarryMap Builder extension?
A: Our new CarryMap Builder extension has been released with the new mobile applications (called CarryMap) for both Android and iOS. The applications can work with new .cmf2 files format. Also the new apps provide a lot of new and advanced options for our users such as creating polylines, polygons, recording tracks, using online basemaps, cloud drives and much more. Follow the links below to download new CarryMap mobile apps for your device: Android, iOS.

Q: Can I view my old .cmf files in new mobile applications?
A: Yes, .cmf files are displayed in new mobile applications. However, while viewing .cmf files the apps work slower and less stable comparing with new .cmf2 files. This is why we strongly recommend converting your .cmf files to .cmf2.


Q: I have a lot of maps created with CarryMap 3.x (.cmf format). If I get CarryMap Builder, do I have to create these maps again using all my old ArcGIS data?
A: Luckily, no. Sure you can do this work again if you want, but there is a better solution - a special tool in CarryMap Builder that meets your requirements perfectly. CarryMap Builder provides you with a .cmf -> .cmf2 converter. This tool allows to convert your old .cmf files to the new .cmf2 format and open files in the new CarryMap mobile apps.