The price for one Single license is $500. Purchasing new license includes annual maintenance.
License available for unlimited number of users can be:
Corporate — price upon request
Global — price upon request
Purchasing new license includes annual maintenance.
Yes, we provide free Academic licenses for educational institutions, going to use CarryMap Builder for educational purposes only.
To apply for Academic license, please contact us at sales@dataeast.com.
Only authorized users are enabled to download CarryMap Builder installation files, get license activation keys, check license and maintenance validity status and buy maintenance.
Yes, we are working on it now.
The mobile maps in .exe format could be created only with the previous generation of ArcGIS Desktop extension CarryMap 3.x. With the release on new generation called CarryMap Builder, this functionality has been taken away, and mobile maps can now be created in the new format CMF2.
However, you can still work with your mobile maps created in CarryMap 3.x using our free mobile and desktop applications.

The .exe format has been replaced by CMF2 for various reasons, including but not limited to the security matter, as .exe format is known to be often filtered out by email clients.
Besides, the new CMF2 format provides faster map drawing capabilities, better data compression, and has number of other benefits.
The license itself is termless, however purchasing maintenance and staying current on maintenance is the only way to have access to all newer CarryMap Builder versions, no matter major or minor. Technical support by email is equally included.

Please note that technical support starts from the date of license purchase.
Please inform us about any bug you find at support@dataeast.com and describe the problem as you can, providing as many details as possible. Do not forget to mention the version of your CarryMap Builder, ArcGIS (and service packs, if any).
The explanatory note for those who continue using CarryMap 3.x
CarryMap 3.x is the previous generation of ArcGIS Desktop extension that has been replaced by CarryMap Builder, a new product with enhanced functionality. Please note, that we no longer develop new versions of CarryMap 3.x extension as well as mobile applications that were used to view CMF mobile maps. However, if you own a CarryMap 3.x license, you can continue using it as long as you need. 
Do you own CarryMap 3.x license? In this case you can upgrade your CarryMap 3.x to CarryMap Builder for a reduced price of $150! The regular price for CarryMap Builder is $500.
Please note that after purchasing upgrade to CarryMap Builder you will be able to continue using your CarryMap 3.x. license as long as you wish.
Read this article to view detailed comparison of CarryMap 3.x and CarryMap Builder. Contact sales@dataeast.com for details.
1. Press the CarryMap Builder button on the ArcGIS toolbar, then select Register item in the appeared menu.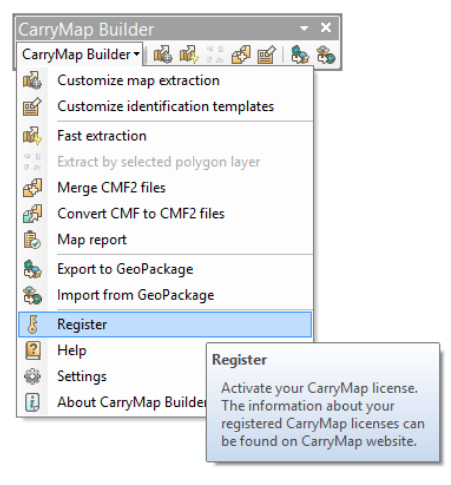 2. Select the required activation key type and press Next.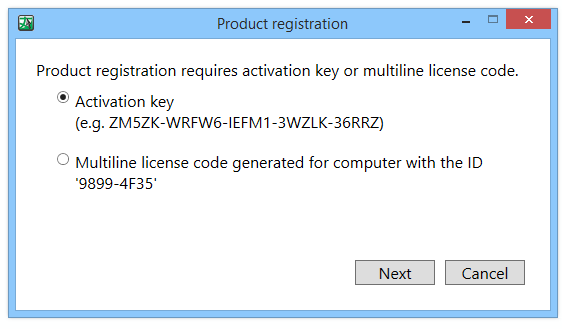 3. Enter your license key and press Next.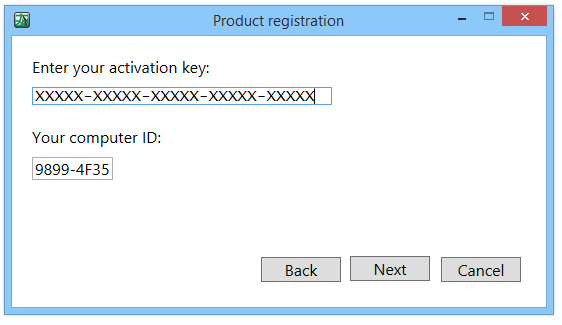 4. Select the activation type and press Next.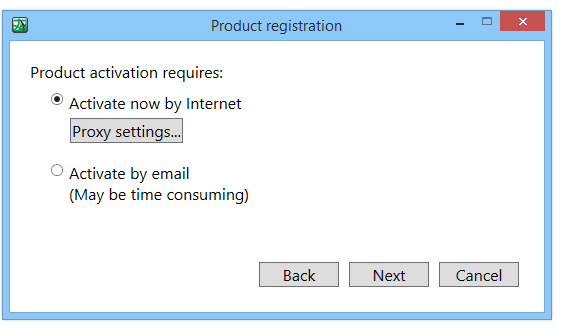 5. Select the product version and press Next.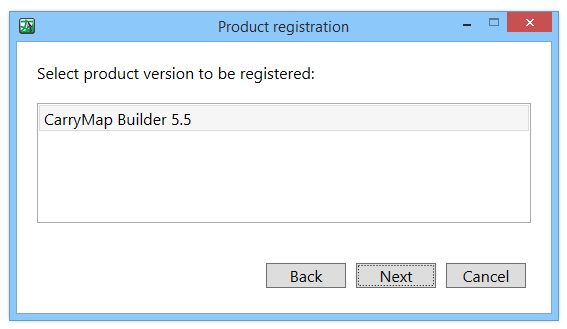 6. Your CarryMap Builder license has been registered. Press ОК to continue working.